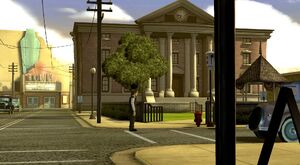 1931 was a year in the 20th century.
By this time there was a trolley that ran down Main Street
New technology
In relation to 1885
Practical Automobile
Coca-Cola
Home Radio
New locations
Events
May:

An arson attack occurs on the Hill Valley speakeasy.
Emmett Brown, who is found unconscious at the scene, is believed to be the suspect and is arrested under the pseudonym "Carl Sagan."
The automatic retrieval system of the DeLorean is eventually activated which sends the time machine to May 14, 1986.

June 13, Saturday: Marty McFly arrives to rescue Doc in the past before his death on the following day.[1]
Date Unknown, August: Frankenstein plays at the Town Theater.
Tuesday, August 25: Trixie Trotter turns on Irving "Kid" Tannen after being mistakenly informed that he has murdered Arthur McFly. Tannen is subsequently arrested by Officer Danny Parker, who is promoted to detective shortly thereafter.
Mid—Late 1931: The Hill Valley mayoral elections are held.[2]
Monday, October 12 to Thursday, October 15: The Hill Valley Science Expo is held.[2]

Due to Marty's machinization and Trixie's help, Edna Strickland breaks up with Emmett Brown.

Tuesday, October 13: Edna Strickland is arrested for arson after her return from 1876.
Real world
Appearances
Notes and references