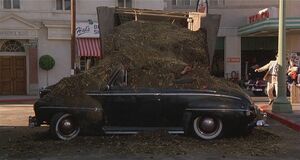 1955A was an ABC timeline and a year in the 20th century. It was created when Marty McFly arrived in the DeLorean time machine from 1985, and hit a pine tree at Otis Peabody's farm, changing its title from the Twin Pines Ranch to the Lone Pine Ranch.
It was overwritten by 1955B when an elderly Biff Tannen stole the DeLorean and traveled from 2015 to 1955 with a Grays Sports Almanac to make himself rich.
Differences
The DeLorean knocked over a pine tree, which would result in Otis Peabody renaming his farm the Lone Pine Ranch.

Otis Peabody was institutionalized after telling people he had seen an alien, which was actually Marty McFly in the DeLorean time machine.

George McFly was never hit by the car driven by Sam Baines, so Lorraine Baines did not nurse him back to health, and thus didn't develop a crush on him.
Biff Tannen had the inside of his car covered in manure, due to his surprise that Marty got away from him on a makeshift skateboard. Biff had Terry clean and repair it. However, when Terry charged $302.57 to do it, he refused to pay it, but Biff took his car anyway.
At Hill Valley High School, during the Enchantment Under the Sea dance, Biff's gang locked Marty in the trunk of a car. Marvin Berry cut his hand while using a screwdriver to open the trunk.
Biff tried to take advantage of Lorraine, and George knocked him out with one punch.
Marty stood in for Marvin Berry on guitar, playing "Earth Angel".
George kissed Lorraine at the dance, as before, but now George had the new-found admiration of his peers due to standing up to Biff.
Marty played "Johnny B. Goode", which caused Marvin Berry to call his cousin, Chuck Berry, to tell him that he has the "new sound" he had been looking for.
Dr. Emmett Brown was at the Hill Valley Courthouse, where he had installed a wire to send the DeLorean time machine back to 1985. He had claimed it was a "weather experiment" and bribed a policeman to allow it to stay up. The experiment was a success, which caused Doc to have a different perspective on life.
Marty wrote Doc a letter explaining that he would be shot by Libyan terrorists in 1985. Doc tore the letter up before he sent Marty back home, and stuck it in his pocket. However, he later put it back together, perhaps due to his new positive outlook, which would lead to him purchasing the bulletproof vest which would ultimately save his life.
New locations
Alternate timeline of events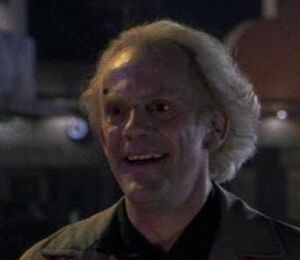 Behind the scenes
Appearances
References
Community content is available under
CC-BY-SA
unless otherwise noted.