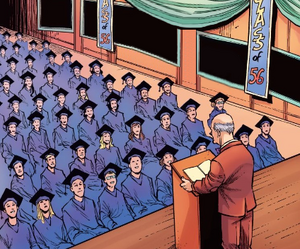 1956A was an ABC timeline and a year in the 20th century. The altered timeline it belonged to was created when an elderly Biff Tannen traveled from 2015 to give his younger self from 1955 a sports almanac to make himself rich.
Differences
Biff didn't graduate with the rest of his class, as he was expelled for trying to bribe Vice Principal Stanford S. Strickland the previous year.
Biff begins pranking Strickland, which gets worse as the years go on.
Alternate timeline of events
For years in this timeline after 1955, see the Hell Valley timeline.
Appearances