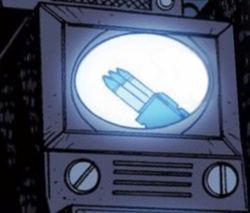 1962A was an ABC timeline and a year in the 20th century. It was created when Emmett Brown, having regrets in agreeing to make a time machine for the U.S. Army to prevent the Cuban Missile Crisis from happening, sent a sent a letter through time, in his temporal field capacitor.
This letter warned Doc Brown about the deal with the army, so Doc allowed the temporal field capacitor to overheat. The Brown family mansion burned down, and the Army didn't contact Doc due to rumors that he was an insurance thief.
Differences
Doc's mansion burned down, and only the fireproof garage remains.
Doc obtained the extra money he needed for his time travel experiments through home insurance rather than by working on temporal research for the U.S. Army.
New Locations
Los Alamos National Laboratory

 in

Los Alamos

,

New Mexico
Alternate Timeline of Events
Appearances