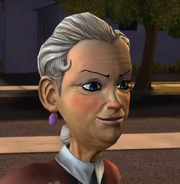 1986H was the timeline for Marty McFly and Emmett Brown after Edna Strickland was captured and arrested for the crime of arson of the Hill Valley speakeasy in 1931. In this timeline, she befriended Irving "Kid" Tannen in prison and upon their release married him, becoming Edna Strickland Tannen. She had reformed Kid and by 1986 was in general a happier person than she had been in previous timelines.
A young Emmett was also allowed to fall in love with science in 1931 preventing the events of 1986G (First Citizen Brown) from occurring. In addition, Erhardt Brown and later Emmett would present the annual scholarship called the Erhardt Brown Scholarship for Young Scientists. As a result, Emmett, Clara, Jules and Verne Brown maintain residency in this time period.
This timeline was also visited by three additional Martys looking to bring Doc and Marty back with them. It is unclear whether this element of the timeline was adjusted when Doc and Marty went into temporal displacement.
Appearances