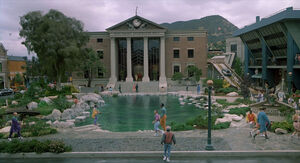 2015 is a year in the 21st century.
On October 21, 2015, one hour before his past self would arrive with Marty McFly and Jennifer Parker, Dr. Emmett Brown went back in time to prevent a nuclear holocaust in 2045.
A new timeline was created, and most things that they originally witnessed in 2015 never existed.
Original Timeline
By this time in history, technology had progressed as much during the 30 years since 1985 as it had during the previous 30 years from 1955 to 1985. Electronics were in virtually everything from clothing to garbage cans to make them move, talk and/or make electronic noises.
Flying cars, once they were invented and perfected, had become so common that drivers no longer needed roads — except perhaps for short journeys. Skyways dominated the skies of central California and eventually the entire world. Cultural influences from other countries, particularly Japan, were more often seen in food and clothing.
Life was lived at a quicker pace than before, in evidence by the speed that people walked down the street, the time it took to cook dinner, and the swiftness of court trials.
Hill Valley underwent a period of gentrification, or revitalization of its downtown. With an increased concern for the environment, the Courthouse Square was landscaped with a large artificial lake (with the surrounding road having NO LANDING markings applied to dissuade drivers of flying cars from bringing their vehicles down near the lake), and businesses were brought back with the construction of an underground Courthouse Mall.
New Technology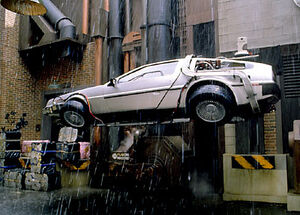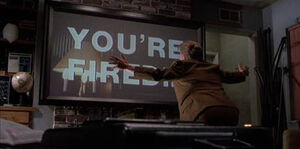 New Culture
New slang
New Locations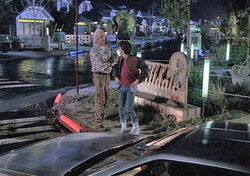 New Organizations
Events
Behind the scenes
Saturday, May 30: World premiere of Back to the Future Live in Concert in Lucerne, Switzerland.
Thursday, June 23: Caseen Gaines' book, We Don't Need Roads: The Making of the Back to the Future Trilogy is released.
Sunday, September 27: The video game LEGO Dimensions, which includes Christopher Lloyd and Michael J. Fox reprising their roles as Dr. Emmett Brown and Marty McFly, is released in the United States.
Wednesday, September 30: Diamond Select releases the board game, Monopoly: Back to the Future Trilogy Edition.
Wednesday, October 7: The original date that Marty, Jennifer and Doc would travel to as opposed to the 21st.
Tuesday, October 13: The 30th Anniversary Edition of Back to the Future: The Game is released for PlayStation 4, Xbox 360 and Xbox One.
Friday, October 16: Back to the Future: The Ultimate Visual History is first published by

Titan Books

in the UK.
Tuesday, October 20:
Wednesday, October 21:
Wednesday, November 11: The second issue of IDW's Back to the Future comic is released.
Wednesday, December 9: The third issue of IDW's Back to the Future comic is released.
Appearances
References
↑

Real-world Toyota 2015 ads show Jimmy Joe Statler with two ties and a flying car in the background, setting it in the timeline before Doc Brown erases hover technology from existence.

↑

When asking Doc why his 1931 counterpart couldn't have invented a hoverboard, Doc responds that they wouldn't be invented for another 84 years.
Actuality