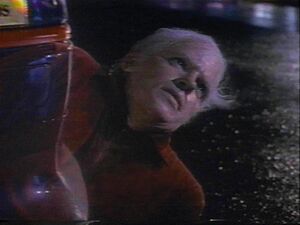 Marty: "So we go back to the future, and we stop Biff from stealing the time machine."
Doc: "We can't, because if we travel into the future from this point in time, it will be the future of THIS reality, in which Biff is corrupt, and powerful, and married to your mother, and in which THIS has happened to ME!!"
— Marty and Doc discussing why they cannot go back into the future of the current alternate timeline.
2015C was an ABC timeline, and was a version of 2015 created when old Biff Tannen stole the DeLorean time machine and traveled back to 1955 to give his younger self the Grays Sports Almanac, which in turn resulted in the creation of 1985A.
History
Marty McFly suggested to Dr. Emmett Brown in 1985A that they should travel back to 2015 and stop Biff from stealing the DeLorean in the first place. However, Doc pointed out they couldn't, because if they did so, it would only be the future of the current alternate timeline in which the wealthy and corrupt Biff had married Lorraine Baines McFly, having secretly murdered her husband George; and where Doc had been declared legally insane and committed to the County Asylum, as reported by the Hill Valley Telegraph of May 23, 1983.
Differences
George McFly
In the original timeline, George McFly was still alive. In 2015C, he is deceased.
Biff Tannen
Biff Tannen died in 1986 in this timeline, having been shot in the head by his great-grandfather Buford Tannen upon Doc Brown sending him temporarily back to 1884.[1] Despite not existing in this timeline in 2015, the 2015B version of himself is still able to go back to 1955 and still exist there for the same reason Marty and Jennifer are able to leave 1985 to travel to a future 2015 where they still exist. The ripple effect began in 2015 and hasn't yet caught up to 1955.
Lorraine Baines McFly
In the original timeline, Lorraine was happily married to George McFly. In 2015C, she is a widow because both George and Biff are deceased.
Behind the scenes
Appearances
References