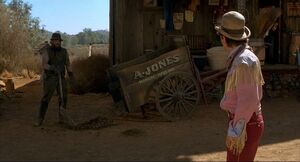 " Marty looked at the row of stores to his right, a saloon, a barber shop, a general store, the Hill Valley newspaper office, a Chinese laundry, a post office — and there were men riding horses, folks in wagons, even a fellow walking along with a shovel and cart (the sign on the side said 'A. Jones. Manure Hauling') — everything you'd expect in a real western town."
—From Back to the Future Part II by Craig Shaw Gardner (quote, page 62)
A. Jones Manure Hauling was a manure-hauling company owned by A. Jones in Hill Valley. The company was known to have been in business by 1885.
History
In 1885, after a duel between Marty McFly and Buford Tannen, the latter was knocked unconscious by several punches and collapsed — straight into a wheelbarrow of manure. These meetings with manure would be a tradition continuing throughout the generations of Tannens.
Appearances
See also
Community content is available under
CC-BY-SA
unless otherwise noted.