Abraham Lincoln
Biographical information
Date of birth
February 12, 1809
Age (1885)
Deceased
Physical description
Gender
Male
Hair color
Black
Behind-the-scenes information

  [Source]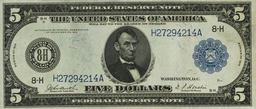 Abraham Lincoln (born February 12, 1809 in Hodgenville, Kentucky) was the 16th President of the United States.
History
Lincoln was shot by actor John Wilkes Booth while watching a play at the Ford's Theater on April 14, 1865. He passed away the next day as a result.
When Marty went to 1931, a picture of John Wilkes Booth was used as part of Emmett Brown's mental alignment meter. Marty recognized him as the man who shot Abraham Lincoln.
Lincoln was added to United States currency in 1909, on the 1¢ coin, better known as a penny, and later in 1914, on the $5.00 bill.
Marty used a penny as part of a tip at Lou's Cafe on November 5, 1955.
When he traveled back to November 12, 1955, Emmett Brown had several $5.00 bills adorned with Abraham Lincoln's portrait in his money suitcase.
Appearances
Note
Though Abraham Lincoln never made a full appearance in the Back to the Future franchise, he appeared in the 1989 time travel film Bill and Ted's Excellent Adventure as one of the historical figures that the two lead characters encounter. He was portrayed by actor Robert V. Barron.
Abraham Lincoln appeared briefly in the 2014 movie A Million Ways to Die in the West and was depicted by Gilbert Gottfried. Though the scene was separate, the film included a cameo by Christopher Lloyd briefly reprising his role as Doc Brown.
External link
Community content is available under
CC-BY-SA
unless otherwise noted.