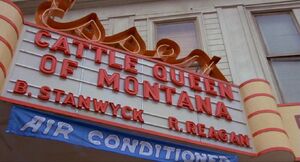 Air conditioning was the cooling of interior spaces via mechanical means.
History
In the 20th century, movie theaters were among the first businesses to use air conditioning, as an additional means of attracting patrons during the summer months. In 1955, the Essex Theater included a banner displayed below the marquee boasting that it was air conditioned, and the AIR CONDITIONED banner remained in place even during the cooler days of early November. The rival Town Theater did not have a similar banner in 1955, suggesting that either it was not air conditioned or that it did not advertise the fact during the autumn.
By 1985, the Essex Theater no longer trumpeted its use of a cooling system. By this time, air conditioning was common enough that movie theaters no longer needed to promote it as a feature for business purposes.
Appearances
See also