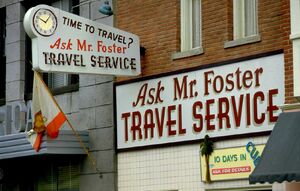 "Next to the Bank of America — one of the few businesses operating in 1985 that was also here now — was the Ask Mr. Foster travel agency. It advertised "fabulous 10-day vacations in Cuba." Once again Marty chuckled. He rather liked sharing history's little secrets of what was to come."
—From Back to the Future by George Gipe (quote, page 84)
Ask Mr. Foster was a travel agency located in downtown Hill Valley in 1955 and in 1985.
History
In 1955, the agency also had a sign advertising "fabulous 10-day vacations in Cuba", something that was no longer possible for American travelers by 1985.
By 2015, the local office has been replaced by Uniglobe Travel agency. Advertisements for travel to Vietnam ("Surf Vietnam"), like those for vacations in Cuba, also refer to what would have been, in 1985, unlikely travel destinations.
In 1931, the area was occupied by the Law Offices of Gale, Zemeckis, & Fine.
Behind the scenes
The "fabulous 10-day vacations in Cuba" advertisement, visible in footage cut from the first movie, can be seen from a distance in the second film.
The travel agency, founded in 1888 in St. Augustine, Florida, was named for a Mr. Ward G. Foster, who had no ownership interest, but whose expertise on railroad timetables made him the go-to guy for information on travel. The company name was retired in 1991, eleven years after the acquisition of the company by Carlson Travel Network.
By 1985, there were about 100 branches of the agency.
The inclusion of the Ask Mr. Foster travel agency in the Back to the Future trilogy was prompted by the unusually appropriate slogan on the agency's sign in 1955. The sign, hanging over the street, is not visible until Marty McFly prepares to drive the DeLorean time machine toward the overhanging cable. The slogan, glimpsed only briefly, is "Time to Travel!"
Appearances
See also