Back to the Future: Blitz Through Time is a video game based on Back to the Future. It is a free Flash match three puzzle game that is similar to Bejeweled Blitz. It was developed by Mediatonic and released by Telltale Games on November 15, 2010.
Publisher's summary
Leading digital-first publisher Telltale Games expands into social media gaming today with Back to the Future: Blitz Through Time, a new free-to-play Facebook game. This kicks off a major new initiative for the company's publishing strategy that will see complementary free-to-play social games launch in advance of many major Telltale game releases.
"By aligning a social gaming component with our upcoming launch of Back to the Future: The Game on various platforms, we will utilize the drawing power of social media to maximize the effectiveness of all our efforts with the franchise," said Steve Allison, Senior Vice President of Marketing for Telltale Games. "This extension to our product launches is a decisive step in our growth strategy to establish closer connections to our consumers. Social gaming is also a great medium for breaking through competitive noise and the confusion of media fragmentation so that we can communicate directly with a focused, pre-qualified consumer."
Created through an agreement with Universal Partnerships and Licensing, and developed with acclaimed online games developer, Mediatonic, Back to the Future: Blitz Through Time is a free-to-play race against time. Players need to match the unstable molecules inside the Time Machine's Flux Capacitor to trigger chemical reactions that enable time travel. Fans create speeds of 88 mph and jump to a new era to unlock special point multipliers.
Back to the Future: Blitz Through Time will keep players coming back daily with an ongoing competition between Facebook friends for high scores. Badges and achievements are awarded for repeat play and for surpassing game milestones that they can share with friends. Time travelers will also be offered chances to win special prizes.
Plot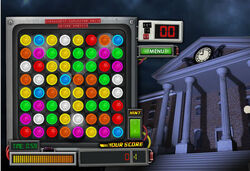 The goal is to match unstable molecules together to stabilize them, which will increase the meter and ultimately create the chemical reactions that are necessary to power the flux capacitor, before time runs out.
Once the meter is full, the DeLorean time machine will reach 88 m.p.h, break the time barrier and travel through time. Each time the DeLorean travels through time, more time is added to the clock.
Trivia
Appearances
Characters
Locations
Vehicles
Weapons and technology
Miscellanea
External links
Community content is available under
CC-BY-SA
unless otherwise noted.