Back to the Future Part III (or Back to the Future III) is the title of a video game released for the Sega Genesis and is based on the film of the same name. The game is different from LJN's Back to the Future II & III video game released for the NES. The game was released in 1991 for the Sega Mega Drive/Genesis, Amiga, Amstrad CPC, Atari ST, Commodore 64, DOS, Sega Master System, and the ZX Spectrum. Each version of the game is more or less identical and are loosely based on the popular film of the same name. The game was developed by Probe Software and published by Image Works and Arena Entertainment (for Sega).
Notes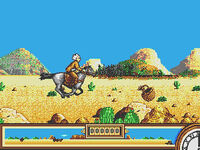 If you lose on the buckboard chase level, when it comes to the screen showing the grave, a programming error makes it says that Clara died on September 5, 1855, whereas in the movie, it was in 1885.
Reception
The game is critiqued by some for being to short & difficult. AJ LoCascio, having bought the game at 18, shared the complaints.[1]
Appearances
Characters
Creatures
Locations
Vehicles
Weapons and technology
Miscellanea
Reference
See also
External links