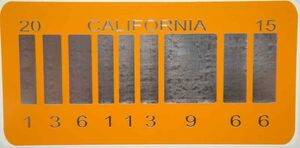 Barcode license plates were in use by 2015 as a means of identifying flying cars.
History
It is assumed that barcode license plates could reveal much more information once scanned than a standard license plate which only previously displayed a six or seven alphanumeric digit combination. It is possible that they could be scanned in the same manner as regular barcodes for use in laser checkout systems.
The DeLorean time machine's barcode plate had the number sequence of 136113966.
Behind the scenes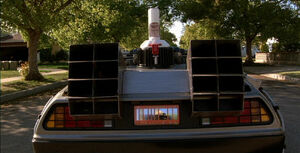 The DeLorean's barcode license plate was on the car for all three films, and over a span of 130 years in movie time. This is rather ironic considering the original license plate, OUTATIME, barely stayed on for five minutes and didn't even make one trip through time. One explanation for this could be that the first license plate was not properly contained with the flux dispersal field, and so became "dislodged" during temporal displacement. By the time of the second license plate with the barcode, Dr. Emmett Brown may have adjusted for this problem. Coincidentally, upon the destruction of the DeLorean, the barcode license plate came off and spun on the ground like the first plate did.
The camera filming the rear of the DeLorean can be seen in the reflective parallel lines of the barcode license plate when the car backs out of the McFly residence's driveway into the street.
Actuality
Appearances
See also
External links