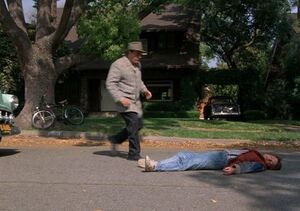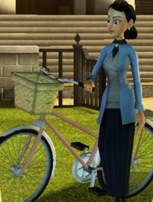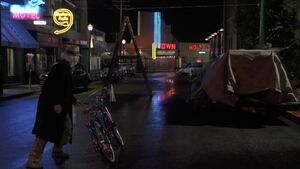 "Doc supposed this [his late arrival at Biff's garage] had something to do with how long it took him to get here. Well, it had taken him a little while to buy the bike, after he had figured out that was the best thing to do with what 1955 money he had left. Why, he hadn't even taken the price tag off the bike, he had been in such a hurry. But then, of course, he needed to buy this hat he was wearing, for disguise purposes of course. Well, it wasn't much of a disguise, just a hat, but then, Doc hadn't had much time to buy it. / Even then, though, he would have gotten here earlier if he had been able to take a more direct route. He sighed. That was one of the problems with time traveling. A couple of the roads he had expected to take to get here hadn't been built yet. And then his muscles had started to complain. That was another problem with all this time travel — when you sat in a DeLorean all day long, you ended up neglecting much-needed exercise!"
—From Back to the Future Part II by Craig Shaw Gardner (quote, page 159)
A bicycle (bike for short) was a motorless vehicle, that was powered by the person riding it.
History
Depending on the owner's requirements, a bike could be fitted with either a basket mounted on the front or a saddlebag attached to the saddle.
Children often rode bicycles as their main mode of independent transportation, as it was faster than walking, and they were too young to obtain a license to drive an car.
In 1931, Edna Strickland had a pink bicycle with a front basket that she used to make soup deliveries to the needy. Marty McFly used that bike with rockets connected to it to save Dr. Emmett Brown from the paddywagon. The bike was undamaged, but it remains unknown as to whether Edna reclaimed it.
In the timeline where Edna Strickland knew Marty McFly through his relationship with Doc Brown, Doc's younger counterpart gave Marty a bicycle in 1931 rather than Edna Strickland.
On November 5, 1955, George McFly rode his bike to Lou's Cafe to have breakfast. Later, he rode it from the cafe to a tree near the Baines residence.
On November 12, 1955, Doc used a bicycle to get around and rode it to Biff's garage to help get Marty out, only to find he was too late. Biff had already left for the Enchantment Under the Sea dance at Hill Valley High School.
Bikes could be purchased in 1955 at Hal's Bike Shop. Upon arriving in the timeline where an elderly Biff gave his younger counterpart a sports almanac to make himself rich, Doc probably bought his bike here.
In 1991, Doc and Clara Brown's children, Jules and Verne rode bicycles to get around Hill Valley when they didn't have their parents to take them where they wanted to go.
Appearances
External link