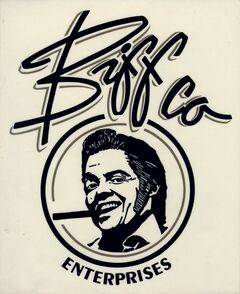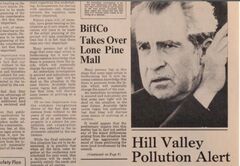 BiffCo Enterprises, or simply BiffCo, was the enterprise founded by Biff Tannen after having made millions successfully betting on horse races with help of the Grays Sports Almanac in the Biffhorrific timeline.
History
Biff invested in toxic waste reclamation and other heavy polluting industries with the company. Biff's position in the company gave him great influence over political leaders and law enforcement. In 1968, BiffCo came into ownership of the Hill Valley Police Department through unknown means. By 1985, BiffCo had grown into an enormously successful business empire.
BiffCo Realty, a part of BiffCo Enterprises, owned Lyon Estates. In 1985, a line at the foot of each lion statue at the entrance (albeit partly obscured by graffiti) said that Lyon Estates was a PROUD MEMBER OF THE BiffCo FAMILY.
Biff Tannen's Pleasure Paradise Casino & Hotel was home to the Biff Tannen Museum, which detailed his success and the rise of his power, which was assisted by the growth and success of his very own company, BiffCo.
BiffCo owned Lone Pine Mall, as confirmed by the news story BiffCo Takes Over Lone Pine Mall in the May 23, 1983 issue of the Hill Valley Telegraph, which had the front page headline EMMETT BROWN COMMITTED.
On October 26, 1985, Dr. Emmett Brown sneaked into the Hill Valley Public Library, which had been boarded up and closed down to make room for a new BiffCo development. He learned about this timeline through the Hill Valley Telegraph archives, and took some bound collections of newspapers containing the relevant information back to his now trashed lab, where he showed them to Marty McFly.
When they retrieved the almanac from Biff on November 12, 1955, Marty burned it with the matchbook he took from the Pleasure Paradise. He realized that the timeline had been restored, and the BiffCo properties erased from existence when the text on the matchbook's cover changed before his eyes from PLEASURE PARADISE to AUTO DETAILING as it had been in 1985A-I.
Trivia
In the original timeline of 1985, prior to Biff's witnessing of the flying DeLorean time machine, he wished to show a matchbook to Marty that advertised his auto detailing business. The aforementioned matchbooks were also complimentary in the casino, one of which Marty takes and later uses to destroy the almanac — ironically, using a piece of Biff's empire. It is likely that the matchbooks in both timelines have the Biff's logo, and as such BiffCo exists in the restored 1985 timeline, albeit with one interest: Biff's Auto Detailing. Like many self-employed men, Biff likely started a limited liability corporation or sole proprietorship, registering it under the name "BiffCo".
Appearances