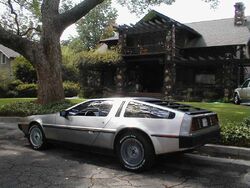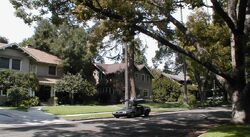 <place lat="34.10550350" lon="-118.14123650" caption="Location of Bushnell Avenue" width="250" /> Bushnell Avenue is a street in South Pasadena, California. It was used as a filming location for George McFly's house and Lorraine Baines's house in Back to the Future, and Biff Tannen's house in Back to the Future Part II.
The films do not show the proximity of the houses to one another, however Lorraine's house is three doors down from Biff's — it is actually next door to the house where Biff throws the kids' ball onto the roof of the porch.
Behind the scenes
In his autobiography, Lucky Man, Michael J. Fox wrote about filming Teen Wolf on Bushnell Avenue at the same time that it was being scouted for Back to the Future.
"We were filming that day in old Pasadena, on a street lined on both sides with attractive split-level Arts-and-Crafts-style homes and shaded by oak trees so mature that their root systems buckle the sidewalks. The effect, at once exotic and familiar, made this are a favorite with filmmakers; and not surprisingly, while we exploited the neighborhood ambiance for our little epic, and advance team from another production company was scouting the location. 'They're with a new Spielberg movie, Back from the Future or something like that,' the assistant director told me later. 'It's supposed to go in late October.'
'Who's in it?' I inquired.
'Nobody I know,' he answered, 'except for Crispin Glover.' " [1]
Notes and references
↑ Michael J. Fox, Lucky Man: A Memoir (Hyperion Press, 2002), p.87