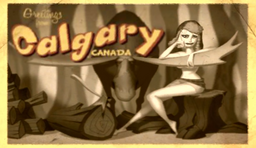 Canada is a country in North America that is located above the United States. Winnipeg is the capital and largest city of the Canadian province of Manitoba.
Sylvia Miskin was born in Manitoba, Canada. She adopted the stage name Trixie Trotter when she began posing for scandalous photographs.
In 1931, her future grandson, Marty McFly, gave Edna Strickland a postcard from Calgary that had a risqué photograph of Trixie Trotter adorned on it. Sylvia lost her job as the "muse of progress" at the Hill Valley Science Expo since the rules required that she be an American citizen.
To rectify this, Arthur McFly rearranged his marriage plans. That night Arthur and Sylvia were married, which made Sylvia a dual citizen, and allowed her to resume her job.
When Arthur's father, William McFly, first heard about his son eloping, he was initially against it, calling Sylvia a "Canadian floozy". However, once he got to know her, he found that he liked her, and approved of the marriage.
In 2,991,299,129,912, the land that previously was occupied by Colorado was part of the empire of Apocrypha. This empire comprised the modern states of North Dakota, South Dakota, Nebraska, Kansas, Minnesota, Missouri, Wisconsin, Illinois, and Iowa, as well as parts of Michigan, Indiana, Kentucky, Colorado, Wyoming, Montana, and Canada.
Appearances
See also
Community content is available under
CC-BY-SA
unless otherwise noted.