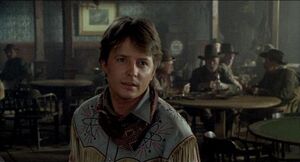 A card game, also known as cards, is any game that uses playing cards as the primary game mechanic. One of the most popular card games was poker.
On July 17, 1876, Beauregard Tannen told Edna Strickland and Emmett Brown that he built the Palace Saloon "to provide the hardworking men of Hill Valley a place to play cards, drink beer and watch some dancing girls".
In 1885, the three saloon old timers, Levi, Zeke, and Jeb, visited the Palace Saloon nearly every day to drink whiskey and play poker.
Behind the scenes
Appearances
See also