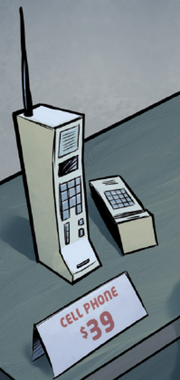 A cell phone, also known as a cellular telephone, or a mobile phone, is a portable telephone that can receive calls over a radio frequency carrier while the telephone user is traveling within a telephone provider area. The term cell phone comes from the fact that most mobile phones manufactured, at least since the first cellular telephone was introduced in 1973, use a cellular network architecture.
A cellular network is communication network where the last link is wireless. The network is distributed over land areas called cells, each served by at least one fixed-location transceiver, known as a cell site or base station. This base station provides the cell with the network coverage which can be used for transmission of voice and data, among other things.
In 2015, Emmett Brown visited the Blast from the Past antique/memorabilia store to determine the value of the items he owned in 1985. While there, he saw a model of cell phone from the 1980s, which by that time had become an antique.
Appearances
External links
Community content is available under
CC-BY-SA
unless otherwise noted.