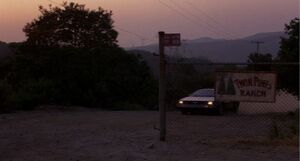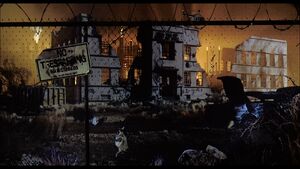 "There, in front of him [Marty], was Hill Valley High School — or maybe he should say what was left of Hill Valley High School. The place looked like it had been fire-bombed. Only half of it was still standing, and that was covered with deep black soot. What windows were left were boarded over, and the whole place was surrounded by a barbed wire fence — like the building had been in the middle of some kind of a war zone."
—From Back to the Future Part II by Craig Shaw Gardner (quote, page 104)
A chain-link fence was a fence made of steel wire woven into a zig-zag pattern.
History
A fence of this type was at the right-hand side of the entrance to the dirt access road leading from the main highway to Twin Pines Ranch, the home of the Peabody family, in 1955, to which was affixed a sign bearing a color illustration of two pine trees and the name TWIN PINES RANCH in large letters. A smaller sign reading BEWARE OF DOG was attached to the first fence post.
In 1985A, the burnt-out remains of Hill Valley High School were surrounded by a chain-link fence, which bore a NO TRESPASSING sign from the Hill Valley Police Department and was topped with barbwire.
In 1986, the Lee Bros. Towing & Repair yard where the steam time car had been taken was surrounded by a chain-link fence. Marty suggested that he, Jennifer and Doc should climb over the fence in order to access the premises, but they ultimately decided to follow a car that was entering through the main gate.
Appearances
See also