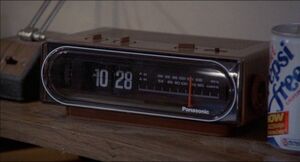 Clock radios were electronic devices that acted as both clocks and radio receivers, and were also designed to turn on and off at a preset time, functioning as an alternative to an alarm clock.
Emmett Brown had such a radio in his garage in 1985, and a commercial for Statler Toyota was playing when the radio turned on. Marty McFly had a Panasonic Model RC-6015 clock radio in his bedroom in 1985, which was playing music while he slept in the early hours of October 26. After Marty's return from 1955 to an altered present, he had the same type of radio, which was playing the song "Back in Time" when it activated at 10:28 a.m.
Marty still had his clock radio as of May 14, 1986.
Appearances