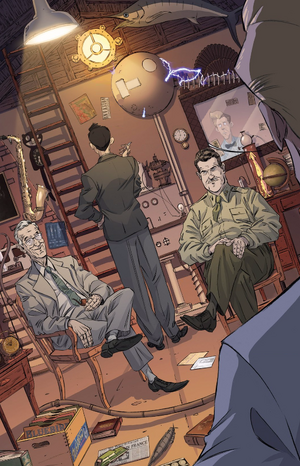 Doc's apartment was the apartment Emmett Brown rented from Mrs. Gomez when he lived in Los Angeles, California in 1943.
During his tenure as a professor at the California Institute of Technology, Doc had heard of a top secret project to benefit the war effort. Doc had managed to convince Robert Millikan, the president of Caltech, to arrange an interview with Major General Leslie Groves and Vannevar Bush.
Doc's apartment was a mess, so he arranged to use the Gomez residence for his interview. The two men realized that the house did not belong to him, and Doc walked back to his apartment thinking he didn't get the position.
When he arrived back at his apartment, J. Robert Oppenheimer told him that using a clean apartment instead of cleaning his own was exactly the out of the box thinking he was looking for in scientists, and awarded Doc a position on the Manhattan Project.
Appearances
Community content is available under
CC-BY-SA
unless otherwise noted.