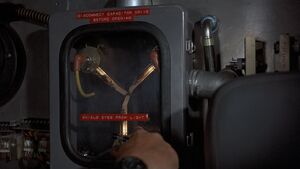 Dymo was a company that produced labelmakers and tape embossers.
History
In 1985, Dr. Emmett Brown used one of Dymo's tape embossers to label many pieces of equipment in the DeLorean time machine with embossing tape labels — including the flux capacitor, time circuits, and the roentgen meter.
The flux capacitor bore two red Dymo labels, warning DISCONNECT CAPACITOR DRIVE BEFORE OPENING (at the top of the unit) and SHIELD EYES FROM LIGHT (placed across the glass panel).
Dymo labels were also present on Doc's CRM-114 amplifier, located in his garage.
Appearances
See also
External links