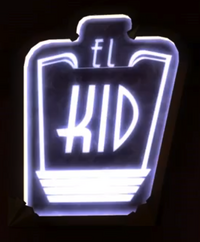 El Kid was the name of a speakeasy located in the basement of the Sisters of Mercy Soup Kitchen in 1931. It was started by Kid Tannen in response to the burning of his last speakeasy in Courthouse Square. It was completed sometime between June 13 and August 25 of 1931. Kid based the name of the speakeasy on a theater in LA named El Cid.[1]
Due to installments, the speakeasy could turn into an ice cream parlor with the press of the panic button. A combination from the roulette table (7, 23, 30) would cause the nearby wall to open up, leading to the inside of O'Malley & Sons Barber Shop.
Access to the speakeasy was restricted to only those that gave successful passwords at the door, guarded by Matches. Downstairs, a stage was set up for Trixie Trotter to perform, with a piano played by Cue Ball, and a bar tended by Zane. Up on the wall were caricatures of people, called the "Wall of Fame", whom Kid had killed personally. One of the drinks served was McDermott's Canadian Whiskey.
History
Marty went to the incomplete El Kid during June 13 to save Arthur from Kid's gang, and arrived again during August 25 to get Trixie and Danny's help in putting Kid behind bars.
In the 1986G timeline, Edna Strickland used El Kid as a monitoring room to keep watch on Hill Valley, and to keep contraband items in storage. The entrance within the alley was completely blocked off with a brick wall. The panic button and its mechanisms remained operational.
After following a mind controlled Biff Tannen through the Decycling bin, Marty found himself at the former speakeasy and managed to stop Edna for the time being. Just as he was about to leave, Biff awoke and was freed from being controlled attempting to attack Marty in anger. Marty managed to stop him by freeing Einstein as a distraction while using the panic button's mechanisms to knock Biff out.
Whether it's being used in the regular 1986 or still exists is unknown.
Regular attendees
Songs performed
Appearances
Reference
↑

Examing the sign will prompt this info from Cue Ball.