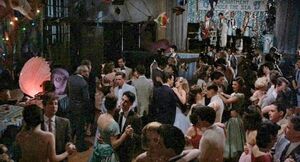 "Be There... or Be Square!"
—Poster in the school hallway
" "Enchantment Under the Sea was well underway. The Hill Valley High School Gymnasium still looked basically like a gymnasium, but there were enough displays and artifacts to create a pleasant illusion. The lighting was blue with silver sparkles created by glass mobiles cut in the shape of fish. Against the walls were various papier-mâché attractions — a sunken ship, undersea caverns, a treasure chest, masses of seaweed, and a diver suspended by a long cable reaching to the ceiling. As an example of contemporary humor, a single school locker labeled "Davey Jones" occupied one corner of the huge room. "
—From Back to the Future by George Gipe (quote, page 201)
The Enchantment Under the Sea dance was a high school dance that was held at Hill Valley High School on Saturday night, November 12, 1955.
History
It was the dance in which Marty McFly's parents George McFly and Lorraine Baines fell in love after their first kiss. The entertainment for the dance was Marvin Berry and the Starlighters, and the admission cost for the dance was $1.00.[1]
In the original timeline, Marty's parents attended this dance together after George had been hit by Lorraine's father's car, and Lorraine had nursed him back to health.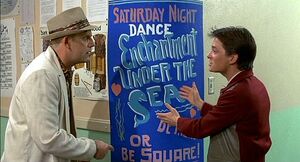 After Marty went into the past for the first time, he inadvertently changed how his parents met, with Marty being the one that was hit by the car and attending the dance with Lorraine instead of George. To fix his mistake, Marty formed a plan to make George look like a hero to Lorraine in order to get her to fall in love with him. The original plan was that on the night of the dance, George was to confront Marty in the school parking lot while Marty was in a car with Lorraine.
However, on the actual night of the dance, Biff Tannen made an unexpected appearance and tried to force himself on Lorraine. George, not knowing it was Biff in the car instead of Marty, got roughed up a bit by Biff. Enraged when Biff knocked Lorraine to the ground, George punched Biff, thus standing up for himself and causing Lorraine to fall in love with him. Marty later got on guitar and played "Earth Angel" with the band, but was slowly disappearing from time while doing so. Only when George and Lorraine kissed during the song did he become whole again.
Marty was then coaxed into playing something that "really cooks" and began playing "Johnny B. Goode".
During the second trip back to 1955, Marty again revisited the Enchantment Under the Sea dance in order to recover the sports almanac that the future Biff had given to his younger counterpart. This time, Marty prevented Biff and his gang from hurting his other self and causing a paradox, and eventually recovered the almanac from Biff.
The analytic video below, The Enchantment Under The Sea Dance Revisited, synchronizes the events at the dance from the perspectives of both films in real time.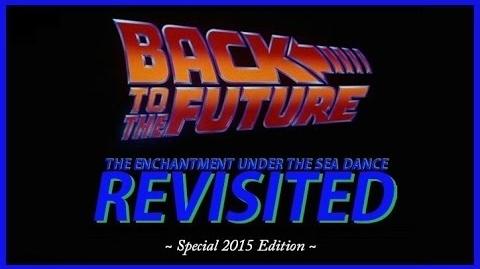 Appearances
References
External links