Eric Stoltz
Biographical information
Date of birth
September 30, 1961
Age (1985)
24
Age (2015)
54
Physical description
Gender
Male
Hair color
Brown
Behind-the-scenes information

  [Source]
Eric Cameron Stoltz (born September 30, 1961, Whittier, California) is an American actor who was originally cast for the role of Marty McFly when production of Back to the Future began on November 26, 1984.
Stoltz as Marty McFly
According to the available call sheets, Stoltz filmed for seven weeks between November 26, 1984 and January 10, 1985. After seeing a rough cut, Steven Spielberg and the writer/directors decided that Stoltz had played the role too seriously for a comedy, and he was replaced by Michael J. Fox, who was temporarily unavailable at the time.
Images of the scenes of Stoltz as Marty can be seen on www.bttf.com, where they were posted in 2002. (These can be found by going to www.bttf.com, then clicking upon "photo gallery" and the link to the old site)
Most of the major scenes in the film were shot with Stoltz. Among those were:
(with James Tolkan) Strickland overhears a phone call between Marty and Doc.
(with James Tolkan) Marty in detention with Strickland crushing his Sony Walkman in a vise. This opening scene was not re-filmed in the Fox version.
Marty skateboarding out of detention down the steps of the High School.
(with Christopher Lloyd) Marty and Doc at the Twin Pines Mall conducting the first time-travel experiment.
Marty being chased by the Libyans in the DeLorean (shots of him in the car are retained for the film).
Marty entering the 1955 Courthouse Square.
(with Crispin Glover, Tom Wilson, and others) Marty's first encounter with George, Biff, and Biff's gang at Lou's Cafe.
(with Glover) Marty is hit by Sam Baines's car after chasing George (in commentary with Bob Gale notes that this was the first scene shot when filming began).
(with Lea Thompson) Marty's first encounter with Lorraine in her bedroom (a still photo is featured on the DVD bonus feature, "The Making of the Trilogy").
(with Thompson) Marty having dinner at the Baines' house.
(with Lloyd) Marty and Doc at Doc's Mansion conducting the mind-reading experiment.
(with Lloyd) Marty and Doc discuss the 1.21 gigawatt conversation.
(with Lloyd, Glover and Thompson) Marty and Doc go to the High School where Marty tries to introduce George to Lorraine.
(with Glover, Wilson, and others) Marty and George discuss taking Lorraine to the dance in the school cafeteria but are interrupted by Biff and his gang. It was reportedly during this scene that Stoltz hurt Wilson's collar bone due to his aggressive style of method acting.
(with Glover) Marty and George discuss taking Lorraine to the dance as they hang washing out to dry.
(with Glover) Marty encouraging George to go into Lou's Cafe to ask out Lorraine. Parts of the scene were filmed from inside the cafe, with Lorraine, Betty and Babs in the foreground, and Marty and George seen through the window, a perspective not used when the scene was re-filmed.
(with Glover, Wilson, and others) Marty observes George attempting to impress Lorraine in Lou's Café, with Marty punching Biff in Lou's Café.
(with Wilson, and others) Marty being chased around Courthouse Square on the makeshift skateboard (another stunt double filmed the run through the convertible).
(with Glover) Marty describing to George the plan for the fake fight.
Marty writing the "Do Not Open Until 1985" letter.
(with Thompson) Marty and Lorraine parking the car outside the Enchantment Under the Sea dance. Confirmed by Bob Gale in an interview.
(with Lloyd) Marty and Doc arguing over the "Do Not Open Until 1985" note
(with Lloyd) Marty and Doc attempt to reconnect the unplugged cable.
Marty at the white line decides to give himself more time in the future.
(with Glover, Thompson, and others) Marty meets his renewed family at his house in 1985. Confirmed by Crispin Glover in [1].
Stoltz's Marty did not wear the down vest that would be mistaken for a life preserver, and drew attention instead for having green tennis shoes.
Melora Hardin had been cast as Jennifer after Claudia Wells was filming a television series in 1984. Because Hardin was a few inches taller than Fox, however, she was let go at the same time as Stoltz, without ever having filmed a single scene, although a publicity photo [1] showed Stoltz and Hardin together as Marty and Jennifer.
Side-by-side comparisons of the Twin Pines and the Lou's Cafe scenes are featured at another site, along with quotes from interviews. The most notable contrast between Stoltz and Fox is their height; at 5'11, Stoltz is seven inches taller than 5'4" Fox, and not quite as short in comparison to Christopher Lloyd (6'1") or Thomas F. Wilson (6'3"). When Stoltz's Marty would face off against Biff, Tannen would not seem nearly as intimidating. In a question and answer session at USC, featured on the DVD commentary, Zemeckis and Gale said that J.J. Cohen had been their first choice for Biff, but that Cohen was not large enough in comparison to Stoltz. As such, Tom Wilson became Biff, and Cohen was cast as Skinhead, a member of Biff's gang.
In addition, publicity shots show Stoltz posing with Marc McClure and Wendie Jo Sperber in the photo with Dave and Linda (instead of posing in front of a wishing well, the three stood in front of a wagon wheel, with Linda in the center and Marty on the right).
Much of the original footage, at least for those shots that did not include Marty McFly (or, by extension, Stoltz), was retained for the film. Bob Gale later explained in a commentary track on a DVD release that some dialogue scenes with other actors were from the original shoot.
One notable scene that was kept in the final film is the one in which Stoltz as Marty punches Biff in Lou's Cafe back in 1955. A YouTube feature, entitled "Eric Stoltz is Actually Still in Back To The Future!", shows the closeup and shows that Biff is being struck by a person taller than Fox. In addition, a comparison is made between two scenes, the closeup with early in the filming at Lou's, and the later one with Fox at Lou's after months of filming "with a more tired-looking Thomas F. Wilson" who has bags under his eyes.☀https://www.youtube.com/watch?v=0JGNkfdFy-8.
Since the shot was a closeup of Tom Wilson they decided to retain the footage in the film. In a radio interview, Wilson commented that "It's my belief that Eric Stoltz's fist punched me in the 1950s Cafe. I do not think that we reshot that because it was a closeup of me."
This isn't the only shot of him kept in the film, however. During the scene where Marty is being chased by the Libyans in the DeLorean, shots of Eric Stoltz driving the car were retained for the film, because they were blurry, and it's difficult to make his face out.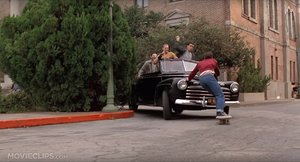 Not only this, but there are three shots of Stoltz during the skateboard chase scene. For some reason, Michael J. Fox was given a patterned shirt instead of the white polo shirt that Stoltz wore. Thus, it's easy to tell the difference between the two. The easiest one to spot is when Marty is holding onto the front of Biff's car, and Skinhead and Match are throwing beer bottles at him. He is wearing the white shirt underneath his maroon jacket, and he is also taller.
After the films
Stoltz would later star alongside Lea Thompson in the 1987 John Hughes high school romance film, Some Kind of Wonderful. Shot two years after Back to the Future, the film gives an idea about how Stoltz might have sounded as Marty McFly. Ironically, Stoltz, in the role of "Keith Nelson", had a crush on Thompson's character, "Amanda Jones". Stoltz and Thompson had previously been in the 1984 film, The Wild Life. In 1989, Stoltz was "Martin" in The Fly II, and later as the drug lord, Lance, in Pulp Fiction.
In an interview [2] with Clint Holmes on moviehole.net, Stoltz was philosophical about the matter, 20 years later. Stoltz agreed with Holmes's suggestion that he would have been "pigeonholed as a teen star" and added, "I think just getting through that difficult period helped me realize how freeing it really was... I actually invested, in myself, in a way that was much healthier for me. If I had become a massive star, I don't know if I wouldn't have gone into therapy." He laughed as he mused, "On the other hand, I would've been exceedingly rich, which would've been wonderful!"
Holmes asked "And then they cast you, when they couldn't get Michael J. Fox, and then they did get him. So, you were just the bait, dude. Bastards!" Stoltz replied, "They were nice people."
On April 19, 2008, Bob Gale participated in a special screening of Back to the Future as part of a benefit for the Make-A-Wish Foundation of Central and North Florida, along with actors Christopher Lloyd, Claudia Wells and Jeffrey Weissman. In a question and answer session after the screening of the,[2] Gale discussed an upcoming release of the trilogy on Blu-ray high definition disc and was asked about whether any of Stoltz's footage would be seen as one of the bonus features. "No, we get that one a lot," said Gale, "why wasn't it included on the old DVD and why it isn't on the new one. It's because Eric Stoltz is a working actor. We made a mistake putting him in the movie. It's not his fault. But seeing the footage makes him look bad, and it doesn't make us look too good either. We don't want to put something out there that's gonna make someone look bad. We didn't destroy the footage. It's still out there and we know it has historical significance. But maybe in another 20 years we can put that out there, but we don't want to put anything out there that's gonna hurt somebody." [3]
However, at the DeLorean Car Show 2010, producer Bob Gale confirmed that there will be three short snippets of the legendary Stoltz footage included on the upcoming DVD/Blu-ray re-issue of the trilogy. (Source: www.bttf.net) The scenes are part of a documentary called "In the Beginning", and do not include sound. The montage is introduced with the familiar scene of Marty slowly appearing to stare at George at Lou's Cafe, but with Stoltz rather than Fox. The next clip is at Doc's house, with Stoltz playing the moment where Marty says "I can't be stuck here! I've got a life in 1985!". In the other clip, Stoltz first arrives in 1955 Courthouse Square, but he's in front of the Ask Mr. Foster travel agency, bewildered by an offer of a vacation in Cuba.
In the Fox series "Fringe", in the alternate reality Eric Stoltz is billed as the star of Back to the Future instead of Michael J. Fox.
See also
References