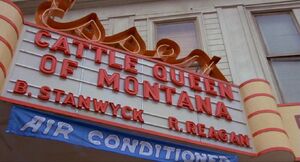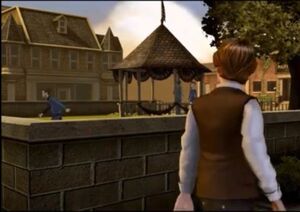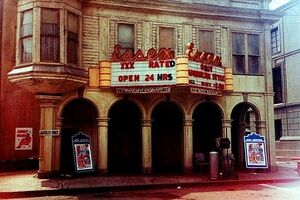 "Continuing to the end of the block, Marty found himself in front of the Essex Theater, a movie house which he had never seen before but felt he knew intimately. According to his mother and father — especially when a few drinks loosened their lips — the Essex was the local petting parlor during the early and mid-1950s. There, in the balcony or deep recesses of the back row, many warm and wonderful relationships were spawned. Occasionally, people even went there to see a movie, although oldtimers like Mom and Dad never reminisced about what was on the screen. Now it advertised in large red letters: CATTLE QUEEN OF MONTANA, starring Barbara Stanwyck and Ronald Reegan. Beneath the marquee floated a banner that read AIR CONDITIONED."
—From Back to the Future by George Gipe (quote, page 83)
The Essex Theater was a movie theater that was located in the Courthouse Square of Hill Valley. This theater had been a part of Hill Valley since the late 1880s.
History
The recognizable framework of the Essex Theater was under construction in 1885 when Buford "Mad Dog" Tannen and his gang dragged Marty McFly through some lumber leaning against the front of the building. At some time in the early 20th century, the interior would have been renovated from a live theater to a movie house.
On June 13, 1931, a movie titled Shark was mentioned as a movie that was to play at the Essex Theater.
On November 5th, 1955, the air conditioned Essex Theater was showing Cattle Queen of Montana starring Barbara Stanwyck and Ronald Reagan.
By 1985, the Essex had been turned into an adult movie house that was open 24 hours a day. This was evident on the marquee as it showed the current movie was Orgy American Style and 'XXX RATED' was written on the opposite side.
By 2015, it was again renovated as the Holomax Theater to show holographic movies such as Jaws 19 directed by Max Spielberg. A holographic projector outside the theater could make three-dimensional images — such as the enormous shark that 'swallowed' Marty, for example — appear from behind the marquee to the street in front of the theater.
Behind the scenes
A sign can be seen on the right side of the 1955 theater marquee, advertising something "free", but is tantalizingly out of frame. A 1985 production,

The Making of Back to the Future

, reveals that the sign said "Free Dishes".
Appearances