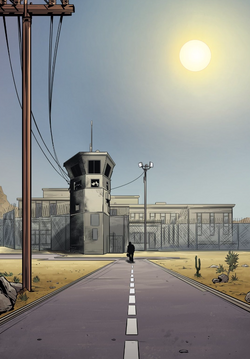 Folsom Prison
was the
California
State Prison located in the city of Folsom, where
Joey Baines
was incarcerated.
In the timeline where all lawyers were abolished in the United States by the 21st century, USA Today ran an article on Joey Baines in their October 22, 2015 issue. The article, Parole denied again, mentioned that this was Joey's twelfth consecutive parole hearing to end in denial. He was serving a twenty year term at Folsom for racketeering and had spent some ⅔ years of his life behind bars.
In the timeline where Dr. Emmett Brown built a second DeLorean time machine, Joey Baines was awarded parole and was released from prison in 1986.
In 1985A, Dave McFly was on parole, presumably from Folsom, after apparently having been in trouble with the police, which his stepfather Biff Tannen owned. Biff threatened to have Dave's parole revoked and have him put in prison if Lorraine left him.
Appearances
See also
References
Community content is available under
CC-BY-SA
unless otherwise noted.