The Ford F-150 was part of the F-Series of vehicles manufactured by Ford.
In 1984, Douglas J. Needles mocked Marty McFly over the fact that he owned a 1978 Ford F-150 4x4, and Marty didn't even own a car. His intention was to anger Marty so that he would try to steal the DeLorean DMC-12 that Doc had hidden in his garage. Needles had hoped to get Marty to unlock Doc's garage so he could steal the car himself.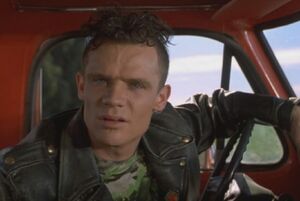 In 1985, Needles and his gang wanted to drag race his F-150 against Marty and Jennifer Parker in Marty's Toyota Hilux. In the original timeline, Marty crashed into a Rolls-Royce Silver Cloud I. In an amended timeline, Marty decided not to race Needles, and realized that he would have hit the Rolls-Royce if he had.
In March, 1986, a chase between Marty McFly in a tow truck from Lee Bros. Towing & Repair and Douglas J. Needles in his Ford F-150 truck culminated in Needles crashing into a delivery truck loaded with boxes of eggs.
Appearances
External links
Community content is available under
CC-BY-SA
unless otherwise noted.