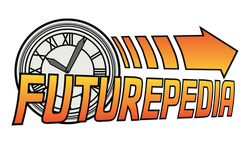 Futurepedia (backtothefuture.wikia.com or bttf.wikia.com), formerly known as The Back to the Future Wiki, was founded in January 2007 by Riffsyphon1024 (Steven Greenwood) and by request of DarkFaith. Riffsyphon1024 has also co-founded the popular Star Wars wikia Wookieepedia.
Futurepedia aims to cover all material within the Back to the Future franchise, including the Back to the Future trilogy, computer and video games, the comic series, and the animated series.
However, during late-2012 and early-2013, a new Facebook page was created in the hopes of spurring additional growth to the wiki. In January 2013, a new logo was provided, establishing the wiki as "Futurepedia".
Futurepedia has been acknowledged in Rich Handley's A Matter of Time: The Unauthorized Back to the Future Lexicon as a useful resource.