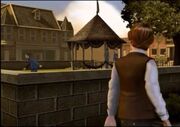 A gazebo is a fairly small round and wooden structure that can be found in areas such as a park.
History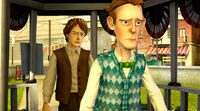 During 1931, a gazebo was built in the very center of Hill Valley's Courthouse Square.
On June 13, Marty climbed up the top of the gazebo to escape from Irving "Kid" Tannen and Matches.
On August 25, Emmett Brown set up the control console for his Rocket-powered car. Later that night, the older Doc went to the gazebo to use the control console to communicate with Marty through the rocket car's radio and to control the car after Irving "Kid" Tannen was trapped in the harness.
It's unknown when the gazebo was taken down or why, but it remained up as of April 18, 1938.
Appearances
Community content is available under
CC-BY-SA
unless otherwise noted.