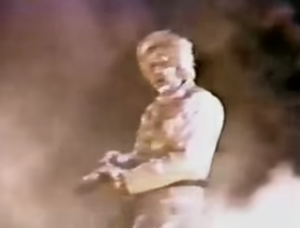 Ghostbusters is an American supernatural comedy film that was released on June 7, 1984.
History
After Emmett Brown dropped Marty McFly off home on October 26, 1985, he traveled to August 8, 2015. He saw many people with 1980s memorabilia at the Hill Valley 1980s Car Expo, such as people wearing costumes based on the characters from the film. One man wore a Ghostbusters uniform and a woman was dressed as the demonically possessed Dana Barrett.
Later, Doc traveled to Universal Studios Florida on May 1, 1990. He was able to have an experience beyond that of usual theme park visitors, as he was able to actively participate in the rides, including becoming a Ghostbuster during the Ghostbusters Spooktacular attraction. He used a prop proton gun to shoot the image of the Stay Puft Marshmallow Man, and was covered with the marshmallow-like substance that appeared in the film.
BTTF actors in Ghostbusters
Appearances
External links