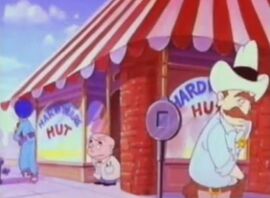 The Hardware Hut was a store in Hill Valley in 1992. It was managed by a small bald man, who recognized Doc Brown as a regular customer, even when he was in disguise.
In 1992, Doc caused a huge power outage that affected the whole of Hill Valley, which resulted in him being banished from the town. In an effort to redeem himself, he drew up plans for a Hydrolunarsolwinderator that would generate new power for Hill Valley. To purchase the supplies he needed, he visited the Hardware Hut in disguise.
Trivia
The Hardware Hut was one of at least three hardware stores in Hill Valley, the other two being near the bank and next to Super Mega Arcade World respectively.
Appearances
Community content is available under
CC-BY-SA
unless otherwise noted.