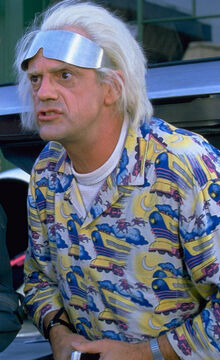 A Hawaiian shirt, also known as an Aloha shirt, is a type of shirt which was first made in the early 20th century.
History
While in 2015, Dr. Emmett Brown changed to 1985 appropriate clothing, which included a yellow Hawaiian shirt, patterned with cartoon trains and cowboys.
Doc's younger 1955 self also wore a Hawaiian shirt at the Pohatchee Drive-In Theater, but this one was orange with a pattern of cartoon lassos and cacti. 
Behind the scenes
The yellow Hawaiian shirt which Doc wore in Back to the Future Part II foreshadowed the train hijacking in Back to the Future Part III.
In Back to the Future Part III, Doc used the fabric of this shirt as a bandana during the train hijacking scene.
Appearances
See also