"Celebrating 70 years of our fine clock tower!"
—Tagline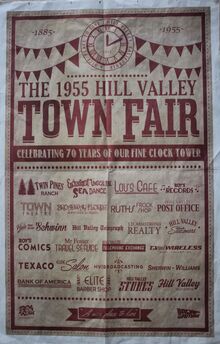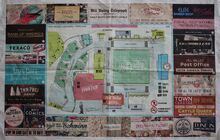 The 1955 Hill Valley Town Fair was an event held one Saturday in 1955 to celebrate the 70th anniversary of the town's clock tower.
History
Activities started mid-afternoon, with Otis Peabody opening Twin Pines Ranch to all guests of the fair, where local farmers had entered their animals into competitions for 'The Best Cockadooer', 'The Fanciest Flock' and 'The Prettiest Piglet'. As well as competitions for animals, there were also vegetable competitions such as 'The Biggest Pumpkin Award', 'The Strangest Colour Vegetable Award' and 'The Largest Turnip Award'.
Throughout the day, shops and residents from across town opened their doors to curious Californians from all over the state and the celebrations culminated in an Enchantment Under the Sea themed parade through the town, towards the Courthouse Square and the beloved clock tower.
Guests also enjoyed an address by Mayor Red Thomas, a funfair, food and drink stalls, and live music at Hill Valley High School.
Appearances
Community content is available under
CC-BY-SA
unless otherwise noted.