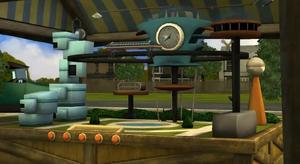 Hill Valley of the Future was a display predicting how Hill Valley could end up around 1981.  It was developed by Hal's Hardware for the Hill Valley Science Expo of 1931. It, along with the Hill Valley of the Past exhibit, was displayed outside the front of Hill Valley High School.
Buttons
There were five buttons on the display from left to right. Pressing them provided an audio description of the city.
Button 1
The first button triggered a description explaining that there would be a network of burrows allowing for the residents of the town to live underground with much more for their daily routine (including play, work and raising families).
Button 2
The second button showed an elevated train while describing it as a means of the residents to get out from underground to enjoy some fresh air.
Button 3
The third button triggered a device providing artificial rain which was described as a means of watering the crops.
Button 4
The fourth button triggered the usage of a diamond-shaped prism providing a rainbow which the description mentioned would reassure Hill Valley citizens that their needs were met.
Button 5
The fifth button triggered an advertisement of Hal's Hardware.
History
During his time in 1931, Marty McFly made use of several items from the exhibit, including:
Appearance
Community content is available under
CC-BY-SA
unless otherwise noted.