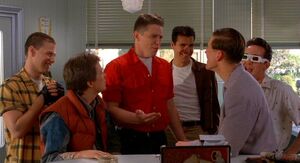 " "You got my homework finished, McFly," Biff asked, "you Irish bug?" / George's eyes avoided that of his nemesis. "Well, no," he muttered softly. "I figured that since it's not due till Monday..." / Biff reached out with his fist and knocked three times on George's head. / "Hello," he said loudly, "anybody home?" / Once again, his friends laughed automatically, emulating Pavlov's dog perfectly. / "Think, McFly," Biff Tannen continued. "Think! I've gotta have time to copy it, right? Do you realize what would happen if I turned in my reports in your handwriting? I'd get kicked out of school." / "Yeah," George smiled. "I guess I didn't think of that. I'm sorry." / Marty sighed and shook his head. It was almost too painful to watch, the beginning of a thirty-year torture test which his father continued to fail. "
—From Back to the Future by George Gipe (quote, pages 89 and 90)
Homework was assignments set by teachers at Hill Valley High School for students to do at home.
History
According to Martha Peabody, Peggy Ann McVey, a student in her class, got an A after turning in a homework assignment about President Dwight D. Eisenhower's heart attack by taking notes from the television news.
George McFly, who was regularly bullied by Biff Tannen, not only had to do his own homework, but also Biff's; Biff being either too lazy or stupid, or both, to do it himself.
On the morning of Saturday, November 5, 1955, George was eating Rice Krispies at Lou's Cafe when he was singled out by Biff and his gang. George hadn't yet done Biff's homework, figuring that since it wasn't due until Monday he had plenty of time. Biff told George that he needed time to copy it, as turning in his homework in George's handwriting would result in him being "kicked out of school". George offered to do Biff's homework that night and bring it over to Biff's house first thing the next morning. Biff was agreeable to this, but reminded George not to come too early as he liked to sleep in on Sundays and wouldn't take too kindly to George waking him up.
Behind the scenes
Early drafts of Back to the Future Part II called for the scene from the first movie to be replicated, two generations and 60 years later. In the afternoon of October 7, 2015, George's grandson Norman (who in the finalized version became Marty Jr.) was at McDonald's when he was singled out by Biff's grandson Griff and his gang. This time, Norman had done Griff's homework that morning and handed it to him on a mini-computer disk. However, Griff rejected it, because Norman had entered the data with his own passkey code, as turning in his homework with Norman's passkey code would result in him being "kicked out of school". Norman offered to go and redo his homework, but as he left, one of Griff's cronies yanked down his pants and Griff tripped him, causing him to spill the contents of his folder. Griff then told Norman that he forgot his passkey code and handed it to him on a plastic card.
Appearances
See also