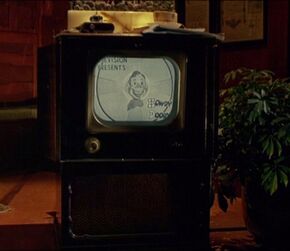 Buffalo Bob: "Hey, kids, what time is it?"
Children in the "peanut gallery" (audience): "It's Howdy Doody time!"
— Beginning of the Howdy Doody show
" "Hey, kids, what time is it?" / Doc's eyes snapped open at the sound of the man's bright cheerful voice. A couple dozen young, high, but no less cheerful voices shouted back: / "It's Howdy Doody time!" / His eyes focused on the black and white image of Buffalo Bob Smith, smiling out from the TV set across the room. Rain fell in sheets outside the window of the den — the aftermath, perhaps, of last night's lightning storm? Doc glanced down at his more immediate surroundings. He was sprawled on the living-room couch. There was an obvious deduction to be made from all this: he must have fallen asleep watching television, safe in his own home, far away from lightning storms and time machines and teenagers who refused to go away. / But then why, now he was awake, did he keep thinking about Marty McFly? / Doc sat up. He remembered. It wasn't a dream after all. / He really had invented a time machine. "
—From Back to the Future Part III by Craig Shaw Gardner (quote, page 6)
Howdy Doody was a children's television show that aired on NBC in the United States from 1947 to 1960.
History
The show starred a marionette named Howdy Doody, from which the show took its title, and an actor in a cowboy outfit named Buffalo Bob Smith.
On the morning of Sunday, November 13, 1955, the program started to play on Dr. Emmett Brown's television set at his mansion. This alerted Doc to the time and date, not realizing that Marty McFly had driven him to his house the night before and had fallen asleep watching television. As the first show of the broadcast day, it interrupted the test pattern that was shown on television all night.
Behind the scenes
Appearances
See also
Community content is available under
CC-BY-SA
unless otherwise noted.