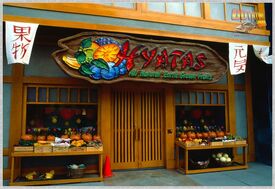 Hyatas was a business located in Courthouse Square in 2015B, and possibly 2015A. 
The store advertised that it sold "All Natural Earth Grown Fruits", suggesting that by 2015, fruit was also being developed artificially. In front of the store, there was a display of the wares for sale, including pumpkins, lemons, limes and melons.  
Southby's Auction House was located directly above Hyatas.
Appearances