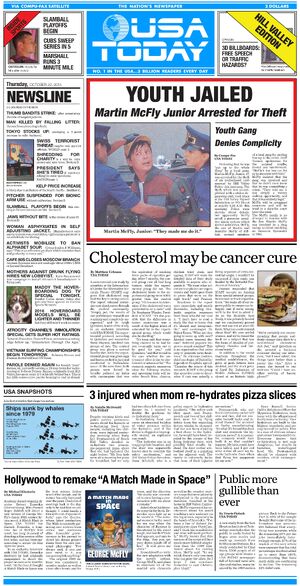 Hyperion Hydrators was a manufacturer of hydrators in 2015. Its Senior Public Relations Officer was Evan Russell.
History
Ruby Lee Dontanovich owned a hydrator manufactured by Hyperion Hydrators, which exploded, injuring her and two of her four children, when she forced the door shut to override the safety mechanism as she attempted to re-hydrate two pizza slices from the night before, trying to double the portions for the children's breakfast.
The incident was reported in a news story titled 3 injured when mom re-hydrates pizza slices on the front page of the October 22, 2015 issue of USA Today, and was investigated by Hill Valley Police Detective Dana Mitchell.[1]
Appearances
See also
References
↑ Special "front page wrap" for real life October 22, 2015 issue of USA Today (see 'External links' below)
External links