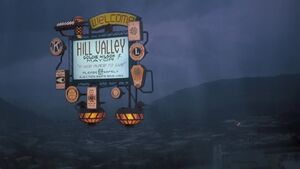 Industrial Light & Magic (ILM) is an award-winning visual effects company based in San Francisco, California.
ILM was founded by George Lucas in May 1975 as a division of Lucasfilm, Ltd., and was responsible for the visual effects in Back to the Future (1985), Back to the Future Part II (1989), and Back to the Future Part III (1990).
Two in-joke references to the company appeared on the hovering 2015 "WELCOME TO HILL VALLEY" greeting sign featured in Back to the Future Part II — though neither of these were clearly visible in the finished movie. Going clockwise from the word WELCOME, an unfamiliar seven-sided symbol bore the lettering "J B / Nor. ILM Ca."; while the Veterans of Foreign Wars logo — at the bottom, in the center — named William B. Beck, who was a model maker at ILM, as the commander of Post 2582157.[1]
See also
References
External links
Community content is available under
CC-BY-SA
unless otherwise noted.