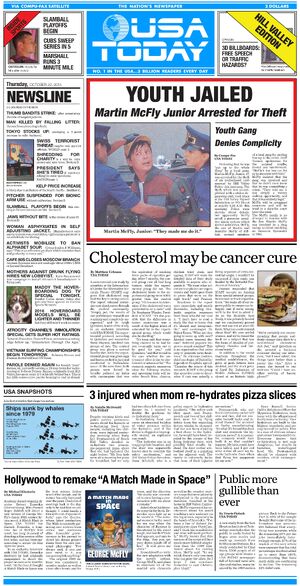 The International Center for Alternative Scientific Theory (ICAST) was an organization in 2015. Its President was Dr. Stephanie Wissler.
History
According to a news story by Matthew Urbanos on the front page of the October 22, 2015 issue of USA Today,[1] a controversial new study by scientists at ICAST, led by Dr. Leigh Quindara, suggested that cholesterol was a possible cure for cancer.
ICAST's experimental protocol had, according to Quindara and researcher Steve Pearson, involved the use of two groups of rats, the control group of which was given a normal healthy diet while the experimental group was given bacon and eggs cooked in lard and smothered in Hollandaise sauce, with both groups at the same time being forced to breathe carcinogen-polluted air to simulate smoking three packets of cigarettes a day. Seven months later, the control group rats were found to all have lung tumors, while the experimental group did not, with the cholesterol levels in the experimental group being 400% greater than those of the control group.
However, the report received negative responses from two individuals who had not even read it: cardiologist Dr. Nakea Tyson, who considered it "absurd and irresponsible"; and Dr. Glenann Godden, chief oncologist of United Independent Hospitals, who not only agreed with Dr. Tyson's views but also pointed out that ICAST's privately funded McBride Rust Study had spent five years determining if rust was actually a living organism of extra-terrestrial origin.
Appearances
Special "front page wrap" for real life October 22, 2015 issue of USA Today
See also
References
↑ Special "front page wrap" for real life October 22, 2015 issue of USA Today (see 'External links' below)
External links