James Tolkan
(born
June 20
,
1931
in Calumet, Michigan) is an American character actor. He is best known for his role in the
1985
film
Back to the Future
as
Hill Valley High School
vice-principal
Mr. Strickland
. He reprised the role in the
1989
sequel
Back to the Future Part II
and, in
1990
, he played the part of
Mr. Strickland's grandfather
in
Back to the Future Part III
.
History
Often cast as a strict, overbearing, bald-headed authority figure, Tolkan currently lives in Lake Placid, New York.
Other well-known films include WarGames (1983, John Badham), playing a fanatic FBI agent; and the box office hit Top Gun (1986, Tony Scott), where he uttered the famous line "Your ego is writing checks your body can't cash". He also appeared in the film Masters of the Universe (1987, Gary Goddard), as a hard-nosed police detective who eventually fights Skeletor's forces.
Tolkan was the star of the short-lived ABC television show The Hat Squad (1992-93). He has also made guest appearances on many TV shows, including Naked City, Remington Steele, Miami Vice and The Fresh Prince of Bel-Air. A member of the repertory cast of A Nero Wolfe Mystery (2001-2002), he also directed two episodes ("Die Like a Dog" and "The Next Witness") of the A&E TV series.
Selected filmography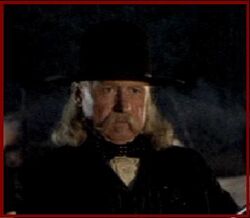 Heavens Fall (2005)
Seven Times Lucky (2004)
A Nero Wolfe Mystery (2001-2002)
Underworld (1996)
Robo Warriors (1996)
Nowhere Man' (1995)
Cobra (1993-1994)
Boiling Point (1993)
Bloodfist IV: Die Trying (1992)
Problem Child 2 (1991)
Hangfire (1991)
Family Business (1989)
Masters of the Universe (1987)
Top Gun (1986)
Armed and Dangerous (1986)
The River (1984)
WarGames (1983)
Nightmares (1983) (voice)
Hanky Panky (1982)
Author! Author! (1982)
Prince of the City (1981)
Wolfen (1981)
The Amityville Horror (1979)
Love and Death (1975)
Serpico (1973)
External links
Community content is available under
CC-BY-SA
unless otherwise noted.