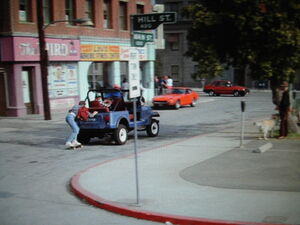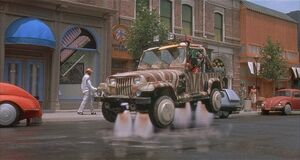 Jeep was a manufacturer of largely off-road vehicles. It was still producing models by 2015.
History
On October 25, 1985, a skateboarding Marty McFly grabbed onto the back of a Jeep CJ-7 — the driver of which was wearing a Mountain Dew baseball cap — to reach Hill Valley High School after transferring from a Ford pickup truck.
On October 21, 2015, Marty grabbed a rope on the back of a futuristic Jeep which had just landed on Second Street while he was fleeing from Griff's gang.
Behind the scenes
Actuality (2015)
Anyone expecting to see in 2015 a futuristic, flying Jeep of the make and model featured in Back to the Future Part II is going to be disappointed, as the Jeep Wrangler YJ is no longer being produced.
As far as is known, Jeep have no plans to produce a flying model in the foreseeable future.
Appearances
See also
External links