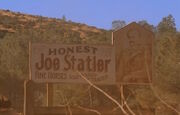 "Honest" Joe Statler was a businessman and member of the Statler family. Joe sold and rented horses and wagon buckboards at his business Honest Joe Statler in Hill Valley. Seventy years later, by 1955, the Statler family was selling automobiles for the Statler Studebaker dealership. By 1985, after Studebakers were no longer manufactured, the family business was Statler Toyota. As with the car dealership, Statler's livery and stable was located on Second Street, but at a location closer to the railroad tracks west of downtown.
When Clara Clayton arrived at the train station, she rented a buckboard and a team of horses from Statler to travel to the house reserved for the town's teacher. In the original timeline, Miss Clayton and was killed when the vehicle fell into Shonash Ravine, which was later renamed in her memory. After Doc Brown arrived in 1885, he volunteered to pick up the teacher at the train station, and the accident did not happen. When Marty arrived in 1885, Doc was talking with an engineer while at the station, and forgot to meet Miss Clayton, and she rented a buckboard on her own. In this third version of history, the horses were spooked by a rattlesnake as she approached the ravine, but Doc and Marty were present. Doc rescued Clara just as the buckboard separated from horses. The Statler-owned buckboard plunged into the ravine and was destroyed. Doc promised Clara that he would "straighten everything out with Mr. Statler from the buckboard rental" because he felt "somewhat responsible" by his failure to meet her at the station.
Appearances
Community content is available under
CC-BY-SA
unless otherwise noted.