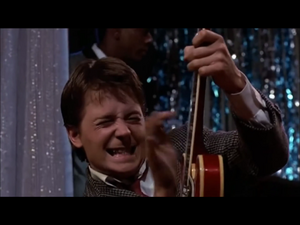 "I guess you guys aren't ready for that yet. But your kids are gonna love it."
—Marty
"Johnny B. Goode" was the signature song performed by Marty McFly and the Starlighters at the Enchantment Under the Sea dance on November 12, 1955.
History
Marty introduced the song as "an oldie", and instructed the band to play a blues riff for a backup. To the audience and the band it was like nothing they had ever heard of before, to which Marvin Berry called his cousin Chuck Berry and let him listen to the new sound. As Marty got more erratic with his guitar playing, the audience and band stopped dancing and covered their ears at his last high note. Marty then realized that the audience "wasn't ready for that yet, but their kids will be."
The scene
The videos below comprise the scene described above.
Behind the scenes
Lyrics
Here are the lyrics of the version of "Johnny B. Goode" that Marty performed. The song actually consists of three verses and a chorus, but Marty sings only the first verse and then the chorus twice.
Verse 1:
Way down in Louisiana close to New Orleans
Way back up in the woods among the evergreens
There stood a log cabin made of earth and wood
Where lived a country boy named Johnny B. Goode
He never ever learned to read or write so well
But he could play the guitar just like he's ringing a bell

CHORUS:
Go, go
Go, Johnny, go, go
Go, Johnny, go go go
Go, Johnny, go, go
Go, Johnny, go go go
Johnny B. Goode

Go, go!
Go, Johnny, go, go
Go, Johnny, go go go
Go, Johnny, go, go
Go, Johnny, go go go
Johnny B. Goode
Reference
Appearances
External links