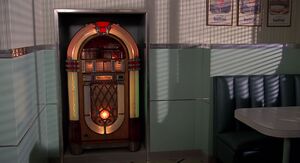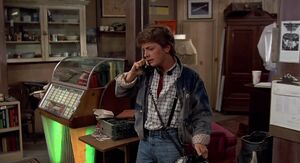 A jukebox was a partially automatic coin-operated record player, and featured buttons with letters and numbers which could be used to choose and play selected records.
History
A Wurlitzer 1015 jukebox — manufactured in 1946, and offering a choice of twenty-four different records — was present in Lou's Cafe in 1955, and contained popular songs such as "The Ballad of Davy Crockett" and "The Wallflower (Dance with Me, Henry)". The cafe also had a number of Seeburg Wall-o-Matic jukeboxes at the tables.
In 1985, Dr. Emmett Brown had a Seeburg jukebox in his garage among other items he had gathered together over forty years.[1]
On May 14, 1986, Biff Tannen listened to "Back in Time" by Huey Lewis and The News on the jukebox in Doc's garage while Marty McFly investigated the property.
Appearances
See also
References
Community content is available under
CC-BY-SA
unless otherwise noted.