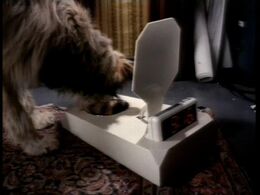 Fido doesn't seem to mind Doc's experimental sawdust dog food!K-9 Cafeteria advertiser
The K-9 Cafeteria was a device constructed by Dr. Emmett Brown in 1991.
History
The machine was essentially a timed door that opened to reveal a compartment of dog food.
The device was probably a later/early evolution of a similar automatic dog feeder Doc had invented in 1985, which was capable of opening and releasing canned dog food into a bowl at a set time.
Appearances
See also