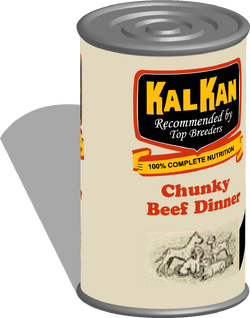 Kal Kan was a brand of canned dog food that Dr. Emmett Brown fed Einstein.
History
Kal Kan's slogan claimed it was "Recommended by Top Breeders" and the label guaranteed "100% Complete Nutrition".
Doc had even devised an automatic dog feeder which would open cans of Kal Kan and pour the contents into Einstein's bowl.
Having accepted his new life as a blacksmith in the Old West, Doc asked Marty McFly in his letter — written in 1885 and delivered to Marty in 1955 via several generations of Western Union — to take care of Einstein, with the reminder "Remember to walk him twice a day, and that he only likes canned dog food".
Behind the scenes
Kal Kan Dog Food was renamed Pedigree in 1988, three years after the release of Back to the Future; Kal Kan Foods also manufactured a Kal Kan Cat Food, which was renamed Whiskas.[1]
Appearances
See also
References
External links
Community content is available under
CC-BY-SA
unless otherwise noted.